Custom MadeTreatment Bed Covers
Our treatment bed covers are not only aesthetically pleasing but they PROTECT your beds!The vinyl covering on a treatment bed eventually will crack due to body fluids, oils & creams, Keep your bed in tip top condition by adding one of our custom made covers!
Custom made individually
Face hole will be in perfect position!
Poly/Cotton Rugby Knit Fabric – does not pill or go baggy after washing!
Elasticated to keep firmly on bed
Toggle System for tightening
Collar for face hole – covers all vinyl areas
Elastic straps with bracer clips included to keep bed cover in place when clients moving around!
MADE IN BRISBANE!
Contact us if you want to order so we can send you correct measuring forms for your particular bed & organize a quote.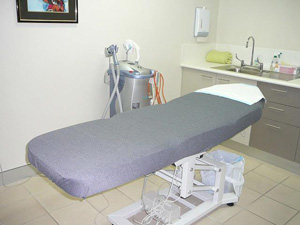 Above: One Piece Bed Cover-Tapered one end in Charcoal – made for The Cosmedic Medicine Centre in Brisbane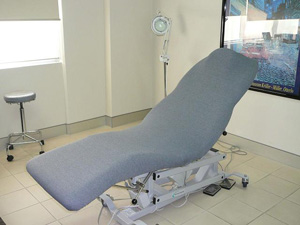 Above: One Piece Bed Cover in Charcoal – made for The Cosmedic Medicine Centre in Brisbane